Nikon D80 with Bruder/Fradotec Housing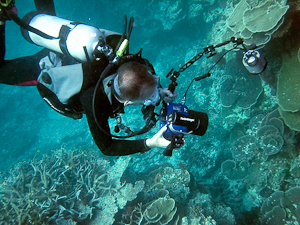 Between spring 2007 and December 2010 pictures were taken with a Nikon D80 in a Bruder/Fradotec (Blueboxx) underwater housing. There is not much to say about the D80 since there are lots of reviews published discussing all pros and cons in detail. My reasons to get it for underwater photography were: (i) The bright and large viewfinder is great above and under water. Much better than in the older D70 or the Canon 400D. (ii) Dedicated wheels for changing aperture and exposure time. I don't have to press several buttons to change aperture/exposure time. (iii) The battery lasts for more than 500 shots even using the internal flash frequently. Underwater without internal flash it is enough for multiple dives in one day taking lots of pictures without changing the battery.
Fradotec (former Bruder company) was a small company located in Alsace, France, that between 2007 and 2009 produced underwater housings called "Blueboxx" for many types of cameras. These housings is made of a special, highly resistive polymer which makes a very sound impression (actually it feels like metal). Basically, all functions of the camera can be controlled and a large variety of ports are available. The housing comes as a package with one flat port, a tray with two handles, and a leak detector (little buzzer that gives a signal when water intrudes the housing) for a very competitive prize. After some fiddling at the beginning my camera fit nicely and was ready to go diving. In the water the assembly of housing, tray, flash arms, flash and focus light is well balanced and easy to use. Outside it is heavy and a pain to bring as hand luggage in an airplane, but that's the same with all DSLR underwater equipment.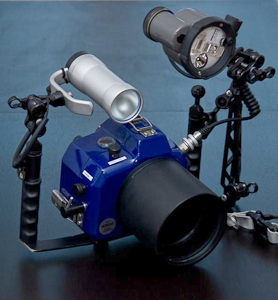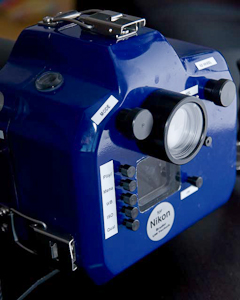 The Blueboxx has a basic look and will not win a design award. But, who cares underwater? It is solid and can take some bumps on a rough ride on a dive boat. Overall, despite some small problems, I am satisfied with the underwater performance. However, getting into contact with this company and getting any service was a big problem and there were many complaints in the community. Thus, the collapse of Fradotec company in spring 2009 was not a big surprise.
The housing is additionally equipped with a HeinrichsWeikamp TTL converter. The converter is installed on the right hand side below the camera and connected to the hot shoe of the camera and the flash bulkhead of the housing. This allows to use Nikon's iTTL with external flashes. The electronics below the left side of the camera is a leak detector which flashes red light in case of a leak. In addition, there is a leak detector with a acoustic signal installed in the back of the housing. This might sound like paranoia, but even the most careful preparation doesn't rule out a leak. And actually, in one instance the leak detector already saved my camera.
In December 2010 the Blueboxx underwater housing got broken on a trip. The camera was inside the housing when it fell down from the trunk of a taxi at an airport. The camera was not harmed at all, but the housing got a hairline crack and was leaking. I therefore sold the two D80s and switched over to the D7000 in an Aquatica housing in spring 2011.